About Tinnitus
Tinnitus is a condition characterized by hearing ringing, humming, or buzzing that does not have an external source. The sounds may be a combination of sounds or a single changing sound, constant or intermittent, and may be and heard in just one ear, both ears or inside the head. Patients with tinnitus can sometimes hear singing or music. Tinnitus is not a hallucination or 'phantom sound' caused by mental illness. Tinnitus produces real neural activity within your brain which is interpreted as sound.
Over 30 million adults suffer from tinnitus, and for nearly 12 million, it is severe enough to impact everyday life. Close to four in ten people experience tinnitus for 80% of a typical day. More than one in four people experience tinnitus they describe as loud; and nearly one in five experience tinnitus as they describe as disabling or nearly disabling. Tinnitus may be accompanied by hyperacusis, a condition that causes when moderately loud sounds to be perceived as very loud.
Causes of Tinnitus
Tinnitus originates behind the eardrum in the middle ear or in the sensorineural auditory system. The most common causes of tinnitus include head injury, noise exposure, as a side effect of certain medications, and as a natural part of aging.
Tinnitus is very often accompanied by hearing loss. For this reason, it is recommended that if you experience tinnitus, you have a hearing evaluation completed by an audiologist.
Classifications of Tinnitus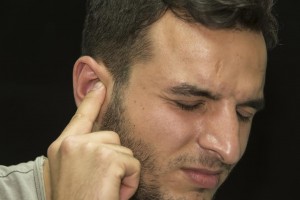 Tinnitus can sometimes be classified as either sensorineural tinnitus or middle ear tinnitus, which corresponds to the underlying pathology, and also corresponds to the classification of hearing loss when hearing is present.
Middle ear tinnitus results from either muscles twitching or abnormal blood flow. In some cases, middle ear tinnitus may be treatable with surgery.
Sensorineural tinnitus can result from head injury, infections, normal aging, side effects from medication or noise exposure. Abnormal spontaneous nerve activity is occurring – an increase in activity, over-representation of a frequency, a synchronous activity across nerve fibers, or a combination of all three.
Clarity Audiology & Hearing Solutions, LLC provides hearing evaluations, including tinnitus evaluations to patients in Ellicott City, Columbia, Catonsville, Baltimore, Sykesville and all of Howard, Carroll and Baltimore County. Contact Clarity Audiology & Hearing Solutions, LLC at 410-698-6594 to schedule a hearing evaluation.