Hearing Evaluations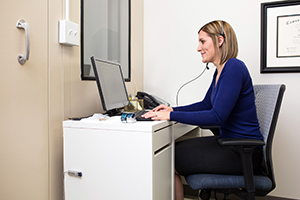 The path to better hearing begins with a hearing evaluation to determine how severe your hearing loss is, likely causes, and treatment options. Clarity Audiology & Hearing Solutions, LLC provides hearing evaluations for adults, children, and infants in Ellicott City, Catonsville, Columbia, Baltimore, and all of Howard, Carroll, and Baltimore County.
We specialize in the diagnosis and treatment of hearing problems, as well as the fitting and programming of hearing aids. At your initial appointment, we will perform a comprehensive hearing evaluation in order to determine the cause of your hearing difficulties and rule out serious health conditions that need medical attention. Dr. Mary Carson and Dr. Lisa Bragg will take the time to clearly explain the results to you, and send a comprehensive written report to your physician.
If we determine through a hearing evaluation that you do have hearing loss and could benefit from amplification, we will make an appropriate hearing aid recommendation for you. As an independent audiology practice with access to a wide selection of top manufacturers, we will not be influenced by manufacturer contracts or sales incentives when selecting a device for you. Dr. Carson will look at your particular hearing loss and your individual hearing needs to make an appropriate recommendation. Same-day hearing aid demos in the office will give you a chance to try out the latest digital hearing aid technology for yourself.
What to Expect During Your Hearing Evaluation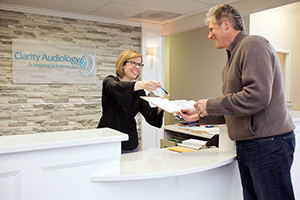 Your hearing evaluation will begin with a welcome and consultation. A member of the Clarity team will guide you through the necessary paperwork, which may be downloaded here and completed ahead of time. A hearing specialist will then ask you initial questions regarding hearing loss symptoms, medical history, and your expectations and concerns about treatment.
The hearing evaluation consists of a visual inspection of the ear canal and testing of the eardrum to rule out blockages, wax buildup, and other middle ear problems. The next set of tests measure how well you hear sounds and speech. You will be presented with sounds and asked to raise your hand, push a button, or repeat words. This portion of the evaluation will tell us how well you hear different frequencies and how well you understand speech.
After testing is completed, we will review your results and discuss the severity of your hearing loss, likely causes, and treatment options.
Pediatric Hearing Evaluations
We are able to perform accurate, comprehensive pediatric hearing evaluations on children ages 3 and up through the use of advanced diagnostic equipment. We work to make the hearing evaluation a fun, positive experience for your child, and can modify behavioral test protocols based on the individual child's responsiveness.
Clarity Audiology & Hearing Solutions, LLC provides hearing evaluations to patients in Ellicott City, Columbia, Catonsville, Baltimore, Sykesville and all of Howard, Carroll and Baltimore County. Contact Clarity Audiology & Hearing Solutions, LLC at 410-698-6594 to schedule a hearing evaluation.