Lyric
Lyric is the world's first and only 100% invisible, shower-proof, 24/7 wearable for months at a time hearing device, and Clarity Audiology & Hearing Solutions, LLC is one of the few select audiology practices in the region to offer this revolutionary product.
How Does Lyric Work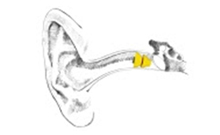 Lyric hearing aids are comfortably placed in the ear canal without the need for surgery or anesthesia. Once placed, it can be worn 24 hours a day, seven days a week, for months at a time. It is even designed to be worn during daily activities like showering and sleeping.
Lyric uses innovative deep ear technology to address hearing loss by leveraging the ear's natural shape to capture sound and amplify it with minimal processing. Not only does Lyric's deep placement inside the ear canal allow it to completely disappear from sight, it also helps the Lyric hearing aid to use the ear's own anatomy to deliver exceptional sound quality. With Lyric, sound enters the outer ear and flows naturally toward the ear drum, helping to preserve natural localization cues from the outer ear and eliminate some of the issues present in traditional hearing aids including wind noise and difficulty with phone placement. This is the only hearing device available that can provide exceptionally clear, crisp sound around the clock for up to months at a time.
100% Invisible: Once placed, Lyric is typically not be seen from any angle at any time.
Hassle-Free, 24/7: Changing batteries and taking your hearing aids on and off for sleep, showers, talking on the phone, and exercising can be a hassle. Lyric eliminates this hassle. No battery replacements or daily maintenance are required.
Natural Sound Quality: Lyric's placement deep within the ear canal lets sound flow into the outer ear and be directed into the ear canal naturally. The result is exceptional sound quality with less background noise, less wind noise, and improved localization abilities.
Who Is Lyric For
Lyric is designed for patients with a mild to moderately-severe hearing loss.   The audiologists at Clarity Audiology & Hearing Solutions, LLC   can assess the level of your hearing loss, ear shape, and lifestyle to determine if Lyric is a good fit for you.
Pricing and Financing
Lyric is sold on an annual subscription basis that falls within the range of traditional premium hearing aids. If Lyric is a good fit for you, Clarity Audiology & Hearing Solutions, LLC also has several financing options available.
Customer Reviews
94% of Lyric wearers in a recent study would recommend Lyric to a friend or loved one, 86% were very satisfied with Lyric, and 91% were very satisfied with Lyric's sound quality.
What Patients Say About Lyric
Clarity Audiology & Hearing Solutions, LLC provides Lyric hearing aid services to patients in Ellicott City, Columbia, Catonsville, Baltimore, Sykesville and all of Howard, Carroll and Baltimore County. Contact Clarity Audiology & Hearing Solutions, LLC at 410-698-6594 to schedule a hearing evaluation.