Hearing Aid Sales & Service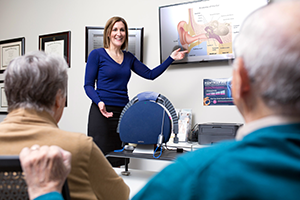 Clarity Audiology & Hearing Solutions, LLC offers hearing aid sales and services to patients in Howard County, Carroll County, and Baltimore County including Ellicott City, Catonsville, Columbia, and Baltimore.  We offer hearing aids from a number of different manufacturers,  which gives us the versatility to recommend the best hearing aid for your unique situation. We consider your type and degree of hearing loss, social lifestyle, previous experience with hearing aids, and budget in making our recommendation. As an independently owned and operated audiology practice, we are never influenced by sales incentives or contracts with manufacturers. We will recommend the hearing aid that is best for your hearing loss needs.
The Clarity Difference
A hearing aid is only as good as its programming and customization. Calibrating your hearing aid through cutting age digital technology to fit your hearing loss needs, fitting the size and shape of both of your ears with real measurements, and taking the extra time to get to know you as a patient are all essential steps in customizing your hearing aid to achieve the maximum potential for hearing improvement.
Hearing Aid Purchase Package

When you purchase your hearing aid from Clarity, you receive:
Free office visits for hearing aid checkups and programming appointments for the life of the hearing aid (the industry average is 5 years).
Hearing aid case for proper storage
Cleaning tools
Membership in Discount battery club
Manufacturer's Repair Warranty (normally 2-3 years)
Manufacturer's Loss and Damage Warranty (normally 1-3 years)
60-Day Risk-Free Trial Period
Every new hearing aid purchased through our office comes with a 60-day risk-free trial period. If you are not totally satisfied with the device, you will receive a 100% refund. In addition, you will have a follow-up visit after the fitting to make any needed fine tuning adjustments and address any of your questions or concerns. If you decide not to keep your hearing aid after the 60-day trial period, you will be refunded 100% of your money.
Hearing Aid Leasing Program
With our new leasing program, you can get the most current hearing technology for a LOW monthly payment that covers ALL out of pocket hearing expenses.
Low monthly payment with no origination fees
Access to the best hearing technology every 36 months
Worry-free service package from our Doctors of Audiology
Free upgrade to rechargeable hearing aids OR free batteries
for the entire leasing term
60 Day Money Back Guarantee
Digital Hearing Aid Programming
Digital hearing aids can be adjusted with a range of parameters to more accurately meet your hearing needs. Several adjustments are usually necessary, after you have worn the hearing aids for some time and allowed your brain to adjust. All office visits for programming adjustments and checkups are free for the life of the hearing aid when purchased through Clarity.
Real-ear Measurements
Every person's ears are a different shape and size, which impacts how sound reaches the eardrum. We use real-ear probe microphones to more accurately measure the sound reaching the eardrum, allowing us to program your hearing aids with much higher accuracy.
"Real World" Listening Simulations

If an audiologist is not conducting "Real World" listening situations, hearing aids may sound good in the office, but not in the real world. We've installed a surround system in our programming room to replicate real-word sounds like background noise. This system can improve the customization of your programming, including noise reduction.
Hearing Aid Maintenance & Repairs

Hearing aids should be cleaned daily to ensure proper function and increase the lifespan of the hearing aid. As electronic devices, hearing aids are sensitive to moisture and debris, including ear wax and body oils. We have state-of-the-art equipment to verify proper function, vacuum debris out, and modify hearing aids to be more comfortable for your ears. These in-office modifications, like our programming updates, are done free-of-charge for the life of the hearing aid.
For more extensive repairs that require the hearing aids be sent to the manufacturer, the manufacturer's warranty may cover the cost.  Most hearing aids purchased through our office include a three year manufacturer's repair warranty.
Assistive Listening & Alerting Devices

An assistive listening device can be used with or without hearing aids to overcome distance, background noise, or poor room acoustics. Examples of assistive listening device include amplified telephones, wireless devices for television use, and induction loop systems.
Alerting devices signal when an important sound is occurring. Examples include smoke alarm devices, baby-crying devices, doorbell alerting devices, and vibrating clock alarms.
Cleaning A Wax Trap
Clarity Audiology & Hearing Solutions, LLC provides hearing aid sales and service to patients in Ellicott City, Columbia, Catonsville, Baltimore, Sykesville and all of Howard, Carroll and Baltimore County. Contact Clarity Audiology & Hearing Solutions, LLC at 410-698-6594 to schedule a hearing evaluation.