We're Moving
Questions about our new office?
We've got you covered.

Will we still see the same audiologists at the new location?
Yes, the staff will be the same at our new office location. Dr. Carson, Dr. Bragg, Dr. Carney, Sue and Amy are excited to see you there!
How will the move affect your service?
Clarity Audiology will continue to provide the excellent customer service we are known for in the community. The larger space is being built with our patients in mind. Updated amenities and the addition of a second sound booth will help keep us running smoothly and more efficiently!
Is it difficult to find your new location?
Accessibility was key when we chose the new office space. Directly off of North Ridge Road heading toward Walmart, we are in the second brick professional building on the left hand side. Our sign will be visible from the road and access to the building will be at the front with ramps to the door to keep our patients safe.
Will the office hours change?
Office hours will remain the same and, in the interest of our patients, we have expanded our walk-in clinic hours. Rather than 2 times a week, our walk-in clinic will be 5 times a week!
| | | |
| --- | --- | --- |
| Dr. Mary Carson | Dr. Emilie Carney | Dr. Lisa Bragg |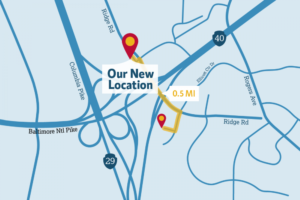 Stay tuned for more information and an invitation to our Grand Opening Celebration in January!
Anticipated move-in date: January 2, 2018
NEW ADDRESS:
Clarity Audiology & Hearing Solutions, LLC
3290 North Ridge Road, Suite 125
Ellicott City, MD 21043
SAME PHONE:
410-696-2890