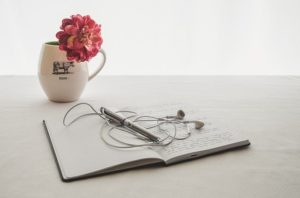 Today, there are countless ways to entertain ourselves. From TV to games to hobbies, the possibilities are endless. One of the most common, however, is music. We can make music or listen to it, and more often than not, the majority of us are listening with our earbuds or headphones. With the number of teens and young adults who have hearing loss as a result of these loud listening devices, however, one might wonder if earbuds cause hearing loss. Find out more below!
Do Earbuds Increase Hearing Loss Rates?
According to research, earbuds do not increase hearing loss rates. People have been using individual listening devices for over 100 years, at least since Britain invented headphones in the 1890s. Since then, the technology of headphones has developed and become exceedingly common; even so, there has been no evidence of a spike in hearing loss cases. 
Finding the Right Volume
One may think that because earbuds are so close to the eardrum, they are more likely to cause hearing loss. This may be true, but they do not have to damage the ears. The problem is not with the device itself but with how one uses it. It is safest to use earbuds in a quiet place so you do not have to turn the volume up to compensate for the noisy surroundings. It is also good practice to keep the volume as low as possible. A good rule of thumb is to keep it so that no one within an arm's length of you can hear the music too.
Taking Breaks
The volume is not the only factor in preventing hearing loss through earbuds, though. It is the relationship between volume and length of listening time that matters. If you are listening to music for over an hour at once, your ears can eventually tire. If you do listen for a lengthy period of time, keep the volume lower so your ears can better endure. Or else, take breaks so your ears can rest along the way.
Trying Different Listening Devices
You can also try out different listening devices besides earbuds to see which suits you best. Instead of earbuds, which are closest to the eardrum, you can use headphones or noise-canceling headphones. These add more distance and still deliver music at a bearable volume. However, be careful if you are using them outside, since they can make you deaf to passing traffic. 
Trust the Experts at Clarity Audiology & Hearing Solutions
Need help with your hearing? Clarity Hearing can help. Clarity Audiology & Hearing Solutions is an independently owned and operated clinic that focuses on quality of care and personalized, friendly service to the surrounding areas of Ellicott City, Catonsville, Columbia. Our Doctors of Audiology are highly trained with advanced degrees and take the time to provide the personalized care and attention that you need and deserve. We provide advanced hearing aid options that personally calibrated with cutting-edge digital technology to fit your hearing loss, your unique ear anatomy, and your individual listening needs.
Come in for a walk-in appointment on Tuesdays & Fridays from 10:00 am to 11:30 am or contact us to schedule an appointment by calling 410-698-6594 or visiting our contact page. Follow us on Facebook, Twitter, Pinterest, and LinkedIn for more blog posts, news, and updates!