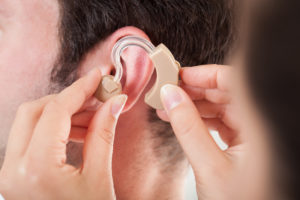 Communities are cultivated by meeting one another's needs through compassionate and faithful service. One of the greatest needs in our community in Howard County, Maryland, is the ability to hear. Thousands of Americans across the country and in the state have communication-inhibiting hearing loss, which has a bigger impact on daily life than one might realize. That is where the Clarity Audiology Community Project steps in.
Clarity Audiology
A practice that serves the community for all its hearing needs, Clarity Audiology was established by Dr. Mary Carson in 2010 as an independently owned and operated business. She, Dr. Lisa Bragg, and Dr. Emilie Carney specialize in evaluating hearing loss and prescribing and fitting hearing aids. Missions work is a large part of what they do, partnering with The Entheos Audiology Cooperative to aid impoverished communities with hearing loss around the world. 
The Community Project
After one of the Clarity colleagues took a trip with Entheos to Guatemala in 2017, the practice decided to take their contributions a step further by establishing the Clarity Audiology Community Project. Through this program, those who qualify can receive hearing aids with a three-year warranty for just $75, a fantastic offer. Clarity then gives the participants opportunities to give back to the community through service. 
The Mission
The mission of the Clarity Audiology Community Project is to provide hearing healthcare for individuals who cannot afford it and, in the process, allow members to give back and strengthen the Howard County community through various service opportunities. Clarity promises to preserve the integrity of those whom they serve and empower them in community service.
The Need
Due to the high rate of hearing loss in America and the estimated 16,496 individuals alone in Howard County who live under the poverty line, Clarity Audiology is so far the only establishment that offers reduced-price hearing healthcare to the people. Those with hearing loss tend to earn a lower income than those who can hear well, and the circumstances only aggravate the issue. The Community Project serves this unique need that improves income rates and overall quality of life.  
The Goal
With the mission in mind, Clarity Audiology's goal is to provide hearing aids for 24 individuals and give 36 hearing tests within the next year. If you would like to donate, click here. 
Trust the Experts at Clarity Audiology & Hearing Solutions
Need help with your hearing? Clarity Hearing can help. Clarity Audiology & Hearing Solutions is an independently owned and operated clinic that focuses on quality of care and personalized, friendly service to the surrounding areas of Ellicott City, Catonsville, Columbia. Our Doctors of Audiology are highly trained with advanced degrees and take the time to provide the personalized care and attention that you need and deserve. We provide advanced hearing aid options that personally calibrated with cutting-edge digital technology to fit your hearing loss, your unique ear anatomy, and your individual listening needs.
Come in for a walk-in appointment on Tuesdays & Fridays from 10:00 am to 11:30 am or contact us to schedule an appointment by calling 410-698-6594 or visiting our contact page. Follow us on Facebook, Twitter, Pinterest, and LinkedIn for more blog posts, news, and updates!