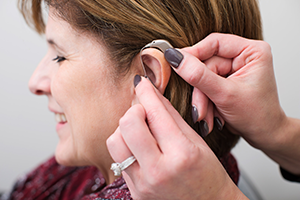 If you have decided to get hearing aids, you may wonder, how often do you really need to wear them? The process of adjusting to a hearing aid takes time, but this does not change the invaluable benefits of wearing your hearing aids consistently. The worst possible thing you could think is, "I only need to wear my hearing aids when I go out." Here's why.
Why Consistency Is Key
While someone may be able to go for days without their glasses and not necessarily worsen their vision, the same cannot be said about hearing. A person hears through not just the ears, but primarily the brain. The brain translates the sounds the ears submit to it into information that a person can then respond to. When the signal between the ears and brain weakens or gets lost, the brain will eventually decide to cut off that function of understanding. Researchers have shown that hearing loss, especially in the elderly, will decrease multiple facets of the brain's functionality, potentially leading to depression, dementia, Alzheimer's, or other conditions.
The brain, like the body, needs exercise to keep it functioning with the full range of motion in its hearing capabilities. The subtle background noises at home, like the birds singing, the furnace running, and family members' footsteps may seem inconsequential, but the brain needs to hear these soft sounds too, lest it readjusts to its old ways.  
The Adjustment Period
Even so, every audiologist understands that it takes time to adjust to a hearing aid for the first time. Sounds soft and loud that have been missing or muffled can be overwhelming to people when wearing new hearing aids. The adjustment period varies in length for different people, and it is important to be patient and to wear your hearing aids only as much as you can stand at first. Try out different exercises; start in a quiet setting and read a book. Move to the yard where you can hear the birds. Talk out loud to get used to the sound of your voice. Most of all, consult with your audiologist for tips on how to help you adjust best. 
Trust the Experts at Clarity Audiology & Hearing Solutions
Need help with your hearing? Clarity Hearing can help. Clarity Audiology & Hearing Solutions is an independently owned and operated clinic that focuses on quality of care and personalized, friendly service to the surrounding areas of Ellicott City, Catonsville, Columbia. Our Doctors of Audiology are highly trained with advanced degrees and take the time to provide the personalized care and attention that you need and deserve. We provide advanced hearing aid options that personally calibrated with cutting-edge digital technology to fit your hearing loss, your unique ear anatomy, and your individual listening needs.
Come in for a walk-in appointment on Tuesdays & Fridays from 10:00 am to 11:30 am or contact us to schedule an appointment by calling 410-698-6594 or visiting our contact page. Follow us on Facebook, Twitter, Pinterest, and LinkedIn for more blog posts, news, and updates!