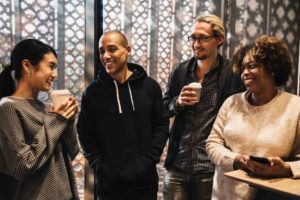 The human ear is an undoubtedly complex organ. Audiologists have developed the tests and technology to identify and treat many types of hearing problems that can occur. However, another kind of hearing loss is only recently emerging on the scene. Many people may have a form of hearing loss and only somewhat be aware of its presence. Hidden hearing loss is now on audiologists' radar more than ever before.
A Common Scenario
A person may be in an area with a large gathering of people, like at a concert, restaurant, or party. He is with a few friends, but when he tries to listen to what they are saying, he cannot hear one word. At the same time, when in a quiet room, he can detect the sound of a pin dropping. Since it can be frustrating never to hear what people are saying in group settings, he goes to an audiologist for a hearing exam. However, his results say his hearing is in the normal range. Audiologists have run into this situation on more than one rare occasion. 
The Science of Hidden Hearing Loss
Although mysterious, researchers have found the source of the hidden hearing loss. This condition, called cochlear synaptopathy, is where the synapses between the brain and the ear have damage. Often when someone has hearing loss, it is the tiny hairs in the cochlea that get damaged over time. However, in this case, it is the synapses that conduct the signals from the ears to the brain that may be compromised. The brain may still pick up on some signals, like a whisper, but not others, like speech in a noisy room.
Symptoms of Hidden Hearing Loss
Symptoms of hidden hearing loss include, as indicated above, an inability to understand speech in a large group of people. People with this kind of hearing loss likewise may prefer to converse in a quieter setting and are easily distracted in a crowd. Bottomline, they likely know that something is amiss with their hearing, even if, in all other respects, it is normal.
Treatment for Hidden Hearing Loss
As of now, there is no clear prescription for hidden hearing loss. What audiologists recommend as a possible solution is to purchase hearing aids that focus on improving one's ability to hear speech in noise. If you or a loved one have any questions, don't hesitate to contact Clarity Audiology! 
Trust the Experts at Clarity Audiology & Hearing Solutions
Need help with your hearing? Clarity Hearing can help. Clarity Audiology & Hearing Solutions is an independently owned and operated clinic that focuses on quality of care and personalized, friendly service to the surrounding areas of Ellicott City, Catonsville, Columbia. Our Doctors of Audiology are highly trained with advanced degrees and take the time to provide the personalized care and attention that you need and deserve. We provide advanced hearing aid options that personally calibrated with cutting-edge digital technology to fit your hearing loss, your unique ear anatomy, and your individual listening needs.
Come in for a walk-in appointment on Tuesdays & Fridays from 10:00 am to 11:30 am or contact us to schedule an appointment by calling 410-698-6594 or visiting our contact page. Follow us on Facebook, Twitter, Pinterest, and LinkedIn for more blog posts, news, and updates!