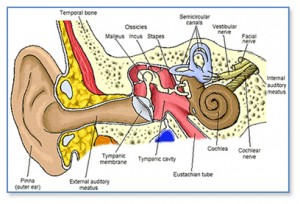 Among the various types of hearing problems in the world, tinnitus is one of the most common and most concerning of all. It is a ringing, buzzing, or whistling in one or both ears that can come intermittently or, for a rare population, constantly. What is tinnitus, what are its risks, and what can be done about it?
What Causes Tinnitus?
Tinnitus often involves damage to the tiny hairs in the cochlea or the auditory nerve connecting it to the brain. The cochlea is the snail-shaped instrument in the inner ear. It contains fluid and has hairs along its walls that move as the fluid moves. The hairs carry information from the sound waves to the brain. When these hairs get damaged (for example, from a loud sound,) the brain will try to "turn up the volume" and fill in whatever noise it is missing but expects to hear. 
Risks of Tinnitus
People often wonder if tinnitus that comes and goes is an indication of future deafness, but that is thankfully not true. Tinnitus has no physical consequence to your health. The trouble is when the condition becomes chronic. Many Americans have suffered mental strain from the ongoing noise within their ears, with no known cure. However, there are plenty of treatment options that can help to alleviate the symptoms.
Treatment Options for Tinnitus
Avoiding or understanding things that can aggravate tinnitus can be helpful. Many drugs like aspirin, some antibiotics, antidepressants, several cancer drugs, and many more can promote tinnitus. Loud sounds are common causes of short-term tinnitus, so avoiding or protecting oneself from noisy environments is another way to alleviate it. If you have a tense jaw or neck, you can talk to a doctor and get treatment or learn to relax the muscles. 
Unfortunately, no surgery, drug, or procedure like acupuncture has proven to improve tinnitus. However, hearing aids can help to amplify outside sounds, and therapy can assist you in developing greater coping skills. 
Trust the Experts at Clarity Audiology & Hearing Solutions
Need help with your hearing? Clarity Hearing can help. Clarity Audiology & Hearing Solutions is an independently owned and operated clinic that focuses on quality of care and personalized, friendly service to the surrounding areas of Ellicott City, Catonsville, Columbia. Our Doctors of Audiology are highly trained with advanced degrees and take the time to provide the personalized care and attention that you need and deserve. We provide advanced hearing aid options that personally calibrated with cutting-edge digital technology to fit your hearing loss, your unique ear anatomy, and your individual listening needs.
Come in for a walk-in appointment on Tuesdays & Fridays from 10:00 am to 11:30 am or contact us to schedule an appointment by calling 410-698-6594 or visiting our contact page. Follow us on Facebook, Twitter, Pinterest, and LinkedIn for more blog posts, news, and updates!